Rev. Dr. M. S. SanthaVardhan's Messages & Songs
For copies, Please Contact: El-Shaddai Audios, Good News Messengers, 27-7-5, Kannavari Thota, 4th Lane, Guntur -4, Ph # 91-863-2354536/ Cell # 9848113886, Email: santhavardhan@yahoo.com, goodnews_messengers@yahoo.com

Every Monday in MAA T.V channel, 'Adhbutha Ghadiya' programme comes out to several places in India and other countries. This program needs 75 members who can pay 50 US dollars per month through out the year to cover this program for one year. You can get tax deductible receipts by sending the amount through the following address. CALVARY LIFE FELLOWSHIP P.O. Box : 1161 , BREA, California - 92822 , USA.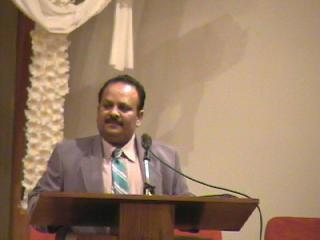 June & July 2007 News Letter
May & June 2007 News Letter
March & April 2007 News Letter
January & February 2007 News Letter
Rev. Dr. M. S. SanthaVardhan's Testimony(My heart stopped-I was dead But Jesus has risen me from Death)
Parishudhathma Part 2
Click here to download
Saataanu Tamtraalu Part 1
Click here to download
Saataanu Tamtraalu Part 2
Click here to download
Yavanuda Part 1
Click here to download
Yavanuda Part 2
Click here to download
The Personality of God Video Dr. D.G.S. Dhinakaran & Dr. Santha Vardhan
Mahima Naadhudu
Lyrics: Rev. Dr. M. S. SanthaVardhan Music: Jakie, Keeravani
Introduction
Mahima Nadhudaa Singer: S. P. Balasubrahmanyam
Priyudaa Hithudaa Snehithudaa Singer: M. M. Sreelekha
Naa Kannulanu Prabhu Veliginchu Devaa Singer: M. M. Keervani
Neevunna Naaku Chaalunu Singer: Merigala
Yese Naa Voopiree Yese Naa Kaapari Singer: M. S. SanthaVardhan
Adbutha Ghadiya Yidi Singer: M. M. Sreelekha
Yesu Piliche Ninnu Vegame RaaRandi Singer: David Merigala
Ninna Nedu Nirantharamu Singer: M. M. Sreelekha
Click here to play above songs
Mahaa Ghanudu
Lyrics: Rev. Dr. M. S. SanthaVardhan Music: Jakie, K. Prasanna Kumar
Mahaa Ghanudaa Mahonnuthudaa Singer: M. M. Keeravani
Prabhuvaa Nee Vaaktsalyam Maa Yedala Singer: M. M. Sreelekha
Duppi Neeti Vaagulakai Singer: UniiKrishnan
Vadha Gorre Pilla Yesu Rakthamu Singer: M. M. Sreelekha
Nee Premaye Naa Kicche Dhairyamu Singer: M. S. SanthaVardhan
Mana Prabhuvu Singers: M. M. Sreelekha & M. S. SanthaVardhan
Ninna Nedu Nirantharamu Singer: UnniKrishnan
Naa Praanamaa Yehovaa Chesina Mellanu Singer: Krishna Raj
Click here to play above songs
Nee Prema Kougililo
Lyrics: Rev. Dr. M. S. SanthaVardhan Music: Jakie
Click here to play all songs
Aaraadhimchi Padedan
Lyrics: Rev. Dr. M. S. Santha Vardhan Music: K. Steven, Jakie
Aani Muthyaalu
Lyrics: Rev. Dr. M. S. SanthaVardhan Music: Ezra Sastri